Easy to use,
E-commerce infrastructure
Try for free for 14 days, no credit card required. By entering your email, you agree to receive marketing emails.
Every year, $100 billion worth of transactions is facilitated with Mazaka infrastructure.




Let all your dealers place orders from your 24/7 open dealer portal whenever they want, make their payments. They don't have to make payments during the order by setting risk limits. Get to know MAZAKA B2B strengthened with integrations right away!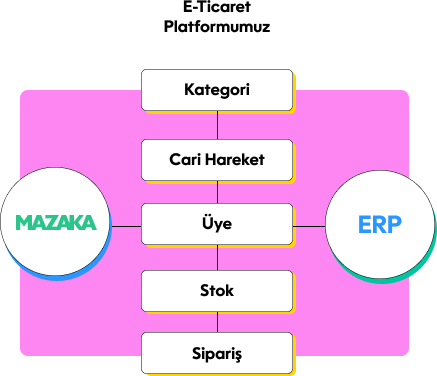 ERP/Accounting Integration
Track your Warehouses, Stocks, Current Transactions, and Payments in real-time with integrations!
It's possible to easily manage hundreds of customers or dozens of warehouses from a single panel. Moreover, with invoice viewing integration, all your customers can see and download the invoices for their payments with a single click.
Try for Free
Sales Representative Module
Your Field Sales Representatives Can Easily Enter Orders or Collect Payments
With the Sales Representative Module, which can work offline, all system management can be done with a single tablet. Your authorized sales representatives can easily create orders, collect payments, or check stock status in the field, even when offline.
Dealer Grouping
Offer Special Price Quotes to Exclusive Dealers
All the rules of traditional commerce are at MAZAKA! You can offer special prices, discounts, products, or brands to dealers with whom you have strong relationships or hide them. Everything is easy and fast!
Risk Limit Management
Set the Balance You Want for Any Dealer You Like
You can request payments according to your due date from your dealers who can place orders without making payments up to the amount you specify. You can create debt and collect payments with a link. Plan your cash flow and prevent problems.